3 Strengths of Kyouei Kouzai.
Kyouei Kouzai's greatest three strengths are our full lineup of treatment equipment, our ability to rapidly deliver even small lots, and our large inventory on hand.
A lineup of equipment for
achieving treatment of sheets up to 16.6mm thick.
We have a full line up of equipment able to support a variety of thicknesses of steel sheets from 0.25mm to 16.6mm and process even special, so called "ultra-high tensile," hard steels.
Our slitter line for extremely thick sheets can also descale and contribute to reduction in customer man-hours.
Advanced technology including scratch inspection and condensation prediction systems prevent outflow of defective parts ensuring thorough quality control.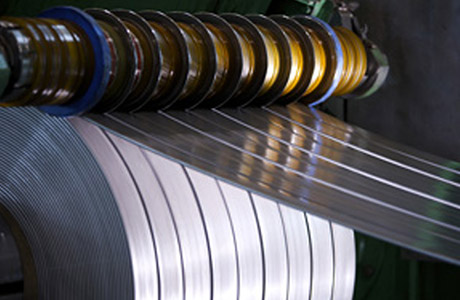 Small lots and quick delivery are made possible due to lightened workloads
Our ability to support small lots and quick delivery has been part of our reputation since our earliest days.
With our recent adoption of semiautomatic blade assembly, time losses have been greatly reduced.
By applying our multilayer sales network we can sell even small lots.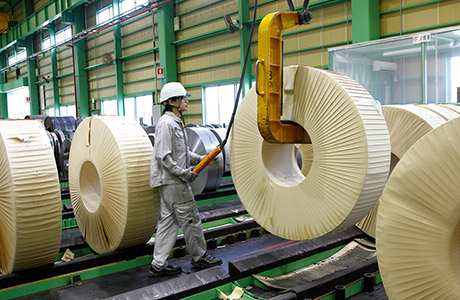 Connecting multiple factories and partners
our extensive inventory is at your service.
In cooperation with our partner agents, sales channels and coil centers we can procure and provide a wide range of materials driven by our supply network.
In addition to steel types important for automotive applications such as SK85 and SAE1060, our standing inventory covers hundreds of kinds including steels for precision parts and home appliances enabling rapid delivery times.